No longer just a rumour, Google announces the launch of Google Drive – their cloud-storage to store and share documents with some nifty added features.
So, no longer just a whisper across the internet, Google are loud and proud with their new cloud-based solution. Rumoured since 2006, the product is finally here. Offering a meaty 5GB of free storage space, smooth integration with their tools such as Google+ and Gmail, access to view over 30 different types of file format without having the necessary viewer installed on your device and a built in version management tool to view all of your document changes; Google are setting forth to go head to head with giants such as Microsoft with their SkyDrive, Amazon, Apple and Dropbox. With these other tools on the market, will Google have the competitive edge and is it enough to fend off their rivals?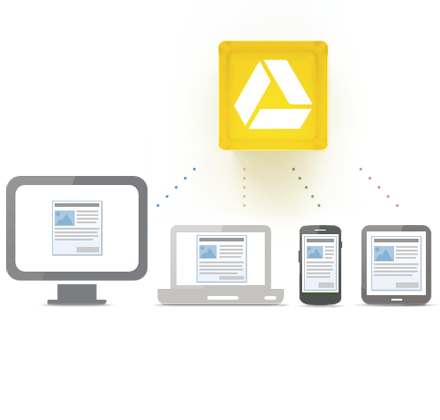 Google Drive will allow users to upload their photos, videos, documents etc to the cloud in order that they can be accessed regardless of your location, as long as you have web connection. The Google Drive can be installed on a range of devices such as PC, Mac, Android devices and coming soon to the Apple iOS. Using their search engine capabilities Google Drive will make use of OCR technology to allow users to search through documents where the text is from newspaper clippings and their image recognition software should be useful in spotting locations in photos. With all of these useful features, Google Drive is shaping up to be an exciting tool.
It seems that Dropbox offers 2GB of free storage whereas Microsoft SkyDrive offers 7GB free (25GB for existing Live/Hotmail users) compared to the 5GB free storage offered by Google, will consumers really go with storage size over functionality? With concerns over privacy policy and the difficulties gaining popular support for Google+, will this count against Google Drive for users? Is the might of the great Google Search Engine enough to steer users to Google Drive? It will be very interesting to see how the situation pans out and we will be keeping an eye on any developments.